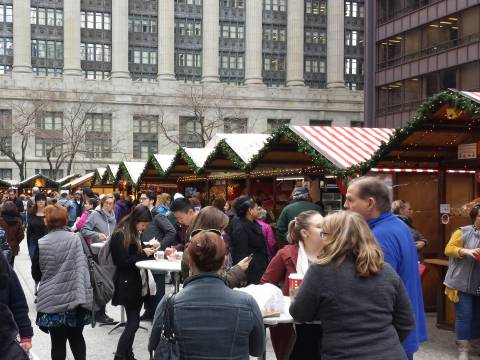 C H I C A G O
Find fun things to see and do in Chicago, including museums, attractions, tours, Navy Pier and Millennium Park! Our FREE Chicago visitor guide puts Chicago sightseeing information in the palm of your hand. We'll help you plan what to do in Chicago...from museums, attractions, dining and nightlife to shopping, tours, events and theater. Our mobile-optimized Chicago sightseeing guide allows you to explore the city with confidence. Visit the "must see" museums and attractions, take a self-guided walking tour of a great Chicago neighborhood, find a new dining spot or experience Chicago's theater scene. What to see and do in Chicago? There's plenty, so let our Chicago visitor guide show you the way! Have fun and start exploring...
ENJOY THE HOLIDAYS
AT TAVERN AT THE PARK!
Delicious Contemporary American Comfort Food!
Learn More Here
DISCOUNTS & DEALS

CONVENTIONEER CORNER

MORE USEFUL INFORMATION

EXPLORE NEARBY CITIES
Chicago is a truly world-class city. With outstanding cultural institutions, magnificent architecture, award-winning dining and theater, vibrant nightlife, a wonderful lakefront and endless shopping opportunities, you're sure to find plenty of things to see and do. Chicago is a true melting pot, and it's residents are proud of their city's "can do" attitude and rough-and-tumble history. In this "city of big shoulders" nothing is impossible. Often called the most American of America's cities, Chicago is a destination eveyone should experience.

HELPFUL TIPS: When using eVisitorGuide, our listings often link you to external websites for more information. When we do, simply use your browser's back button to return to eVisitorGuide.com. Also, most listings contain Google mapping. If you need additional directions, just click on the "View larger map" link for the full Google Maps experience, including walking and driving directions from your location. (Your mobile device's GPS must be enabled.) To return to eVisitorGuide.com, simply use your browser's back button. Finally, while we try to keep our information as up-to-date as possible, things are always changing. Be sure to call ahead or check the website of our listed establishments for the most current information.