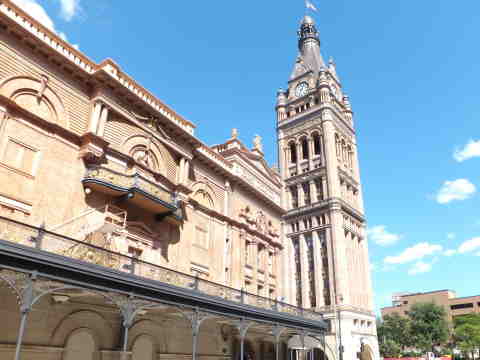 M I L W A U K E E
Our Milwaukee visitor guide allows you to find fun things to see and do in Milwaukee. Sightseeing information includes Milwaukee's museums, attractions, brewery tours, RiverWalk, the Historic Third Ward and much more! Our FREE Milwaukee visitor guide puts Milwaukee sightseeing information in the palm of your hand. We'll help you plan what to do in Milwaukee...from the Milwaukee County Zoo, Milwaukee Art Museum, Pabst Mansion and Milwaukee's many other museums and attractions, to dining, nightlife, shopping, tours, events and theater. Our mobile-optimized Milwaukee sightseeing guide allows you to explore the city with confidence. Visit the "must see" museums and attractions, enjoy the RiverWalk, visit the Milwaukee Public Museum, stroll the Historic Third Ward, find a new dining spot or experience Milwaukee's theater scene. What to see and do in Milwaukee? There's plenty, so let our Milwaukee visitor guide show you the way. Have fun and start sightseeing in Milwaukee!


DISCOUNTS & DEALS

CONVENTIONEER CORNER

MORE USEFUL INFORMATION

EXPLORE NEARBY CITIES
Milwaukee is a fun, easily walkable city with the cultural amenities of a much larger metropolitan area. This jewel on the shores of Lake Michigan offers opera, ballet, the symphony, innovative theater, dining, nightlife, galleries and beautiful public parks. Milwaukeans are proud of their city, are incredibly friendly and helpful, love their sports and enjoy throwing a great party. Milwaukee is known for its fun ethnic and music festivals, with Henry Maier Festival Park being the home to many. (Given Milwaukee's German roots, don't miss Oktoberfest!) No mattter the time of year, Milwaukee is a great place to visit and explore.

HELPFUL TIPS: When using eVisitorGuide, our listings often link you to external websites for more information. When we do, simply use your browser's back button to return to eVisitorGuide.com. Also, most listings contain Google mapping. If you need additional directions, just click on the "View larger map" link for the full Google Maps experience, including walking and driving directions from your location. (Your mobile device's GPS must be enabled.) To return to eVisitorGuide.com, simply use your browser's back button. Finally, while we try to keep our information as up-to-date as possible, things are always changing. Be sure to call ahead or check the website of our listed establishments for the most current information.